Dear SLCC community members,

In an effort to streamline digital communication around the college, our Google Bruinmail accounts are moving to a new platform. OIT will begin transitioning all Google Bruinmail accounts to Microsoft 365 sometime after finals week in December of 2021 and complete the transition before spring semester begins in January of 2022. Here's how this affects you:

What the transition means for students

If you're a current SLCC student, your email address itself won't change. You'll still be able to send and receive mail at username@bruinmail.slcc.edu, but it will be housed in Microsoft 365 instead of Google. The good news? You'll have "read only" access to your old Google account through May of 2022, which gives you about six months to review the emails, files and videos you'd like saved – because they won't be moved automatically.

If you're an SLCC alumnus, or if it's been about three years since your last class, your Bruinmail account will be deactivated after the transition. (But we still want you to you stay in touch with SLCC.)

What the transition means for staff and faculty

If you're an SLCC staff or faculty member, your Google account will be added to your current Microsoft 365 account, which means you'll be able to send and receive emails from both addresses in one place. Moving forward, future hires will only receive email addresses as "username@slcc.edu."

Just like students, you'll have "read only" access to your old Google account through May of 2022, which gives you plenty of time to review and save important files.


Why, When, What
Later in this article are links to other knowledge articles explaining how to export anything you wish to keep, tools will be provided to allow you to export anything you want to keep (and also shown along the right of this page).
After the transition happens in December 2021, your Google account should be considered in a read only state until May 23, 2022. On that date, all Google services provided by SLCC will be shut down completely.

WHY? -- The main reason for this change is consistency and simplicity. For many years, SLCC has offered both access to Microsoft 365 and Google Services. While we have benefited from this functionality, this has been confusing, especially for Staff/Faculty who have two different e-mail accounts with different logins, and different places to check or forward incoming mail. The desire is to provide a single service that all current SLCC constituents can use to communicate and collaborate.
Additionally, Google has, for over a decade, provided unlimited cloud storage and services free of charge to educational institutions. Under this plan, SLCC was able to provide free and unlimited use of Google Photos, Google Drive, and the "@bruinmail.slcc.edu" e-mail address, to students, faculty, staff, and emeriti. However, Google has recently announced that they will no longer provide unlimited storage services to education institutions, and will not support SLCC's population without incurring significant additional costs.
Accordingly, SLCC has made the decision to decommission all Bruinmail Google services by May 23, 2022

WHEN? -- M365 E-mail accounts for students will be enabled late December 2021.
After the Fall Semester (December 2021) winds down and grades have been submitted, e-mail services will be enabled for Students in the M365 platform (Faculty and Staff are already enabled).
At the same time, Google Bruinmail accounts should be considered Read Only. New inbound messages will only be delivered to M365, and new outbound messages should be sent from that platform." .
Formal notifications will be sent out September 2021 to all Bruinmail e-mail accounts and HOME e-mail addresses documented in your MySLCC account. This is found in the Academic and Records tab under My Profile in the Academic Records section.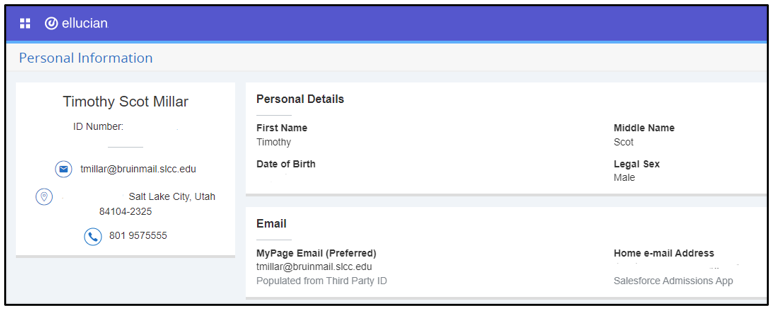 Reminder notifications will be sent to these addresses throughout the duration of the transition period.
Monthly reminders will be sent out through November 2021.
Weekly reminders will happen throughout December 2021.
Between January and May of 2022, people still using the service, or with data, will be contacted monthly.
ALL GOOGLE BRUINMAIL ACCOUNTS AND GOOGLE DRIVE DATA WILL BE PERMANENTLY DELETED AFTER MAY 23, 2022. NO EXCEPTIONS WILL BE MADE.

WHAT? -- You should update any non-SLCC online services that you have associated with your Bruinmail account. This includes any services you have configured to use Google authentication. You also need to copy any desired files, photos or emails, or YouTube videos from your Bruinmail Google account using the steps provided below.
1 - Change Google Authentications: If you use your Bruinmail account to login to a non-SLCC service that offers Google authentication (see below figure as an example), then you will need to login to the service and change it to sign-on with another method.

This can include apps such as shopping, banking, music, online games, or other services. To provide some examples for reference, our top authorizations for non-Google services are for the apps: Pokémon Go, Spotify, WhatsApp Messenger, Android Device, Slack, and LucidChart.
Each service will have a different process, but once you login, look for a method to add a new account, then login with that account, and then unlink your Bruinmail account.
2 - Update Subscription/Email Notifications: If you are just using your Bruinmail e-mail to receive notifications AND you are a current Staff/Faculty/Student/Emeritus, then you should not need to do anything. The "@bruinmail.slcc.edu" e-mail address will be added to your M365 account. However, if you are an alumnus and your account will be going away, you will want to update these services to use a personal e-mail address.
Check and update your home (personal) e-mail address in your MySLCC account. See the "When" section above.
3 - Move any desired files, photos, or emails out of your Google Bruinmail account: Old e-mails, files, images or videos will NOT be migrated automatically, but there are a few ways to handle moving e-mails or files still needed from Google to other services like Microsoft 365 or a personal Google account.
Please use the instructions below specific to your current role with SLCC:
Students
Faculty/Staff/Emeriti
Alumni – Student or Employee (Will lose Bruinmail account once you cannot register - approximately 3 years after last course)
NOTE! Students are considered "Current" if they are registerable (approximately a three-year period). Staff are considered "Current" while they have an active job. Adjunct Faculty retain privileges for a full semester after they last taught.
If you have any comments or suggestions, please provide them in the Feedback section below.
If you have any questions or issues, you can contact Technical Support:
Telephone: 801-957-5555
Email: helpdesk@slcc.edu