How to reset or unlock your password for your SLCC School account
1. New Students Faculty and staff should view the section later in this article for additional details. If you don't remember your username, use our UserName recovery tool.
2. Start the process to login to one of SLCCs online systems (MySLCC, Canvas, Bruinmail Etc) , one of the SLCC login URLs listed at the bottom of this article, or one of the links provided in your "Welcome" email. This should result in a Microsoft Sign in dialog.
3. In the Enter password screen, select "Can't Access your account?" / "Forgot my password".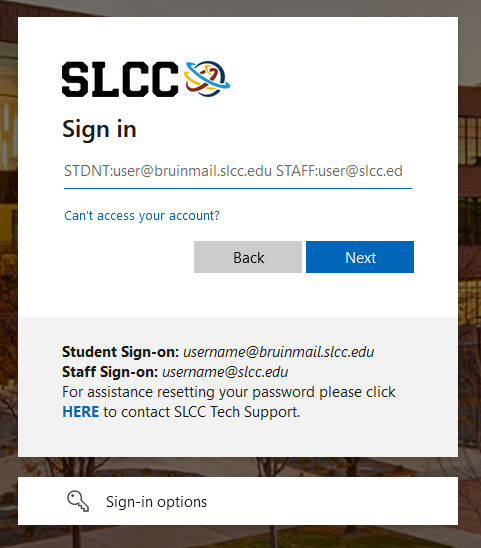 4. In the "Get back into your account" screen, type your work or school User ID (for example, your email address), prove you are not a robot by entering the characters you see on the screen, and then select Next.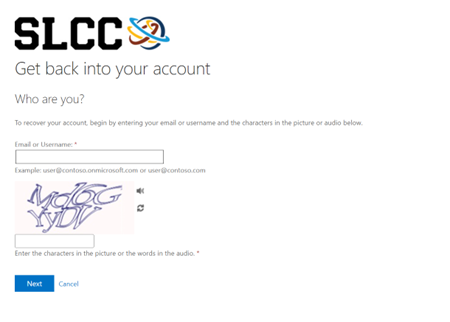 5. Select one of the methods to verify your identity and change your password and add the requested information.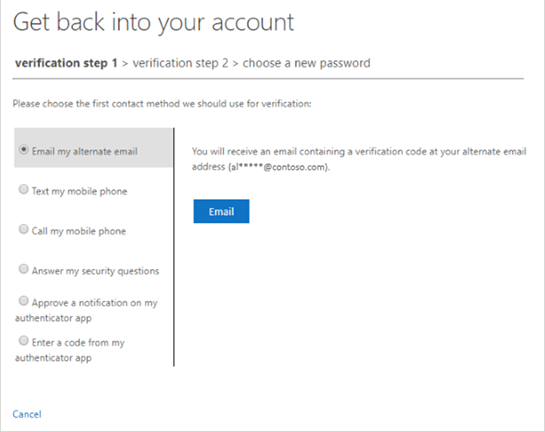 If you want to know more about one of the methods, they are detailed in the "Password Reset methods" article listed in the related articles.
Notes:
6. Change your password. IMPORTANT: Your new password must meet SLCC Password Complexity requirements.
First Time Sign-In for New Students, Faculty and Staff
Once a student has been admitted, or two days prior to a new employee's start date, an account will be created and an email with account information and login instructions will be sent. For Students, this will go to the personal email account that is listed on your college account (typically entered during the registration or application process). For Staff/Faculty, the new email will be sent to the employee and your supervisor.
If this is the first time you are setting up a password for SLCC, or you have been locked out of your account, you can use your recovery info to reset your work or school password. Initially SLCC will set up some verification methods for you to be able reset your own password. To do that, we use the personal email address that was provided when you registered/started work. If that information was incorrect, or you have forgotten it, you will have to contact the helpdesk at (801) 957-5555 or email HelpDesk@slcc.edu to get assistance logging in.
Your new password must follow these simply rules in complexity. Password Complexity
**IMPORTANT** – You should set up as many different verification methods as you can, so if you get a new phone change emails, etc., one of the other methods will still work. View our article on Registering Password Reset Verification Methods
SLCC Login URLS:
Additional Resources: